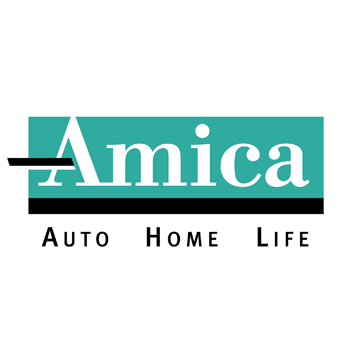 Amica
Amica auto insurance incorporates a long history of client service satisfaction and it has received the positive kind of ratings. Along personal injury and standard liability coverage, Amica provides so many value-added attributes incorporating a program known as Platinum Choice, reimbursement for incomes as well as the absence of various deductibles.
Insurance Coverage
Amica Car Insurance offers a wide scope of coverage to its customers. Since Amica is a mutual company, the business is owned by its loyal customers. This offers a unique angle to Amica as it caters its business with interests that match their customers'. Amica offers a list of deliverables that covers almost all elements of your auto vehicle that may be at risk in the event of an accident.
●    Vehicle Coverage-
Amica offers coverage for your automobile and insures against any physical damage that your car might sustain in an accident. The terms of the agreement are subjective, which implies that all the valid grounds must be satisfied in order for a justified claim to be made. Amica also offers some deductibles that help reduce the costs of an insurance on the customer's end.
●    Passenger Coverage-
The insurance offers to cover the complete safety of the driver as well as the passengers during a justified claim. This encompasses the physical and mental rehabilitation in case of a stressful and traumatic experience. Bodily injuries are wholly insured by Amica.
●    Liability Coverage-
Amica covers a range of liabilities for the insured in case they are responsible in a certain way for the accident.
 
Affordability
Unlike most insurance firms, Amica offers highly competitive discount rates as a reward for their customer loyalty and increasing engagement in their businesses. Higher discount rates lead to a deduction in the premiums owed, making insurance holding much more affordable. 
One of the ways of getting rewarded higher discounts is by combining multiple insurance policies like a home insurance or life insurance with the best auto car insurance. Lower premium rates are also offered if insurance is bought for two or more vehicles. Amica also treasures customer loyalty and often repays in the form of higher discounts to its long-term customers.
 
A switch from another competitor can also land you with higher discount. Payment of the yearly premium up front, in full, can also yield higher discounts. 
Affordability is also boosted in Amica if the car is equipped with safety measures and if the insured drivers have good driving grades. This includes addition of airbags and electronic car tracking devices.
Customer Satisfaction
As mentioned earlier, Amica Car Insurance is a mutual company and highly shares its interests with those of their customers. Amica strives to serve the best customer appeasement program in the market. Amica will also send quick assistance if your car has broken down or needs urgent mechanical repair on the side of the road. A 24/7 helpline number is provided to cater to the same. 
Customer service in terms of discounted rates also plays a significant role in the insurance business. Amica Car Insurance provides its most loyal customers with rewards as a token of appreciation for the long standing relationship. They are available all day, all night to answer any queries or address any issues that a customer might have.
Survey Review Data
Financial Stability
Amica Car Insurance offers a wide range of coverage options from securing and insuring every aspect of your auto vehicle driving experience. Their coverage schemes wholly cover physical damage to your vehicle along with insuring any bodily injuries that you, as a driver, or passenger sustains in the event of an accident.
Amica Car Insurance quotes are rather affordable compared to industry standards and they do not deduct any deliverables in case of a natural or untoward incident. It also offers huge discounts if you combine a couple of insurance policies. This not only yields wider financial stability, but also helps you organize all your car insurance policies in one location with the help of certain select executives.
Insurance is all about safety and stability. Amica offers just that, along with a lot more to ensure that their customers are provided with the best coverage possible so that they can lead a prosperous and stress-free life. Their avid attention to customer queries, doubts and problems gives them a favorable position in the industry since customers like to buy what they see and how they feel while buying that.
Amica offers a ton in exchange in terms of helping their customers along every path and cooperates to the maximum in case they need to register a claim.
Contact Info
100 Amica Way,
Lincoln, RI 02865 
800-242-6422